We spent our last sight-seeing day in Asia today in very satisfactory fashion. We took a short subway ride to Namsangol Traditional Village (남산골한옥마을), a place where they have moved several historic, and some just ordinary, traditional Korean houses and furnished them with traditional furniture, kitchen implements, etc. Supposedly they do traditional crafts there, too, but we didn't see any of that. Henry and I did get to hear a little concert on traditional instruments, though, a long sort of flute, a double-sided drum and a strange, large, six-stringed instrument that was plucked. Very lovely music.
village buildings (with some modern additions)

as expected, a lovely garden in the village

the all-too-necessary kimchi pots

Seoul Tower in Namsan Park, as seen from the village
In addition to the traditional houses and exhibits, the park also has a "time capsule" where they buried a bunch of stuff in 1994, on the
600th anniversary of the founding of Seoul. It's to be opened in 2394, on the millenium anniversary. It's set in a very interesting little plaza, with carved messages from heads of state from around the world wishing Seoul "happy birthday."
After leaving this park we headed back to Namdaemun Market for some final shopping and then back to the apartment for long naps in anticipation of our sleep-deprived flight home. When Hal got home from work we had our final Korean meal, at a neighborhood restaurant where you sit on the floor. We had been wanting to do this, although I doubt if we'll feel the urge to do it again; it's a little uncomfortable. The food was excellent, though.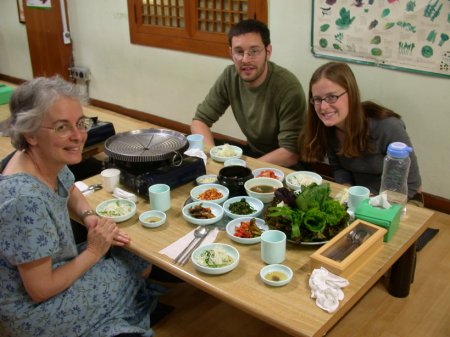 Since Carey was working late we then headed to another district to meet her at a microbrewery place, where we had some tasty beers. Then back to the apartment for birthday cake (Carey is 23 today!) and eventually to bed.
Hal has left for work this morning already, so we've said our goodbyes to him. Carey is out on an errand but expects to be back before we leave. Henry went out walking and hopefully he'll be back in time to finish packing so we can leave in plenty of time. We plan to follow the Spurs game on the internet and then leave for the airport about the time that the game's over. We checked out the bus terminal last night and are fairly confident that we'll be able to find the correct bus to the airport this afternoon by ourselves.
Seoul Arts Center
| | | |
| --- | --- | --- |
| view from Mt. Umyeon | | Korean War bunker |
So my next message will be a notice that we've returned to the land of E Pluribus Unum; hopefully I'll have enough energy to do that before crashing to bed in what will seem like 2 days from now.
Hope you all have enjoyed these reports; I have enjoyed writing them. We'll have many pictures and stories to share with you next time we see you all.