I'm sitting here at the window in Hal's bedroom, which has a really wonderful view west, of a section of the city and some of its embedded mountains. At some point we are definitely going to take a picture of this view and will send it to you.
| | | |
| --- | --- | --- |
| "Mexican chicken"? | | apartment building and some of the neighborhood |
living room, looking toward the bedroom and the window from the front door

kitchen (note the "second freezer" drawer for kimchi)

bedroom with that great view out the window

shoes by the front door (note raised wooden floor with heating units underneath)
hangin' on the subway

Today we got introduced to the Seoul subway, Korean food and Korean shopping. Fortunately, the subway seems to be pretty easy to navigate, and we can get whatever we need (and a lot we will never need!) in Seoul's malls. The food is a bit more difficult, but still interesting. We also spent a lot of time visiting with Hal and Carey and catching up on what they've been doing.

Everything here is an intriguing mixture of the exotic and very strange and the familiar. The subway operates in a very similar way to those we have used in other cities. All important signs, and many unimportant ones, are in both Korean and English, so although we are beginnging to make strides in learning the Korean alphabet, it's very easy to find your way about without knowing any Korean.




Sally & Kathy head down the escalator to catch a train near Olympic Park

Our first ride took us to Techno-Mart (테크노마트), an amazing 10-story sort of department store that specializes in electronics. Sally and I were pleased to find that one of the big-screen TVs was showing an Astros game, live! What a treat (although they were losing to the Rangers
). Henry also had fun looking at the cameras and the kids all bought some clothes. (Not much in the bargain line, so far prices have seemed very similar to home.)
There is a grocery store in the basement and we needed some supplies, so we went there, too. Here the juxtaposition of the strange and the familiar was amazing. The store looks superficially just like an HEB but some of the piles of unidentifiable foods were quite striking. But we got the stuff we needed and then headed back to the apartment.
giant mobile in Techno-Mart
Our next excursion was to a little diner around the block from the apartment that serves authentic Korean food at amazingly cheap prices (a sort of Korean El Milagrito!). Hal ordered us a variety of dishes from the Korean-only menu and most of it was very good. One common theme to the food, though, is that it's VERY spicy, even for palates used to hot sauce and jalapeños.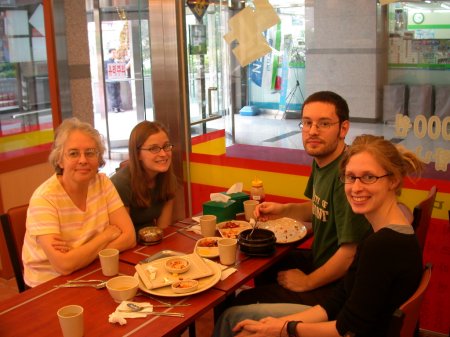 We then went back to the apartment for some much-needed rest and then headed out in the early evening to another mall, COEX (코엑스몰), which
is underneath a gigantic convention center. The main level of the convention center was hosting a wedding reception and we got to see some of their decorations on the way in. We thought about going to a movie there but decided against it and after walking around a bit headed across the street to the most opposite kind of space to a mall that you can imagine—an operating Buddhist temple*!
The temple is on the site of a very old temple, with lots of history, but the buildings date from the 1800's. There are several of them, all wooden with elaborate carvings and decorations. A few of them were occupied with people praying and chanting. It was an incredibly relaxing and tranquil place, right in the heart of the hustle and bustle (and this is world class hustle and bustle, believe me!) of Seoul. Last weekend was the Buddha's birthday and they still had up hundreds of colored lanterns that were used in the celebrations. They looked amazing even before they were lit when it got dark. We got LOTS of pictures.
Then back to the mall for some Baskin-Robbins (I told you there are lots of familiar sights here!) and then home on the bus. I could have gone to sleep right away but the kids had more energy and made veggie fajitas that were delicious before we all turned in.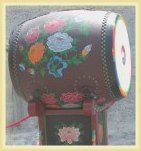 old and new in Seoul

giant statue of the Buddha (불상)

lovely building with lanterns

more lanterns
| | | |
| --- | --- | --- |
| many more lanterns | | lanterns as darkness deepens |
Our tour guides have a busy day planned for us tomorrow, so I'd better close.
Hope all is well with you all. We heard about the Spurs final game with Seattle and were just as glad we didn't get to see it, we would have been nervous wrecks! But we may get to see some of the games in the next series on the Armed Forces TV channel Hal gets in his apartment.