Today we saw and experienced a lot of new things—not exactly what you'd expect on our next-to-last full day here.
There are more photos from this day's activities in the Miscellaneous Flickr set.
Henry got up early and went on a hike up one of the hills in Hal's neighborhood. His walk to get there led him past the Seoul Arts Center (예술의 전당), which contains a museum and performance space. The museum was pretty top-drawer, he said, at least judging from the outside and the exhibitions advertised: they are showing a selection of Egyptian items from the British Museum and people were waiting in line for the ticket office to open.
[Text continued below]
lanterns at Daeseongsa Temple

decorative details at Daeseongsa Temple

view from Mt. Umyeon (우면산)

flowers in kimchi pots near the temple
The rest of us slept in but got up in time to follow the Spurs game on the internet while watching a movie on TV. Are those Spurs looking awesome now or what!?!!
After the game we set out for an afternoon's excursions, to culminate in a soccer game in the evening. Our first stop was an absolutely HUGE fish (or, as they say here, "marine products") market. We didn't get to buy anything but just to see it. It is at least as big as the Mexican market in downtown San Antonio, and FULL of the most amazing-looking marine products you can imagine! It's like going to an aquarium, combined with a fish hobbyist's store, combined with a street market. They had the most enormous shrimp we'd ever seen (Henry was VERY upset that he couldn't get some and take them home to grill) a lot of octopus and squid, and lots more items we couldn't identify. Our tender vegetarian (Sally) didn't enjoy the visit very much, and I admit there were some displays that I found rather upsetting, and the smell eventually was just too much. But it was a truly unique experience.
Then back on the subway to go to the World Cup Soccer Stadium (월드컵 경기장) and its adjacent park. After getting our tickets we needed lunch/dinner and went into the mall which has been built up on the first level of the stadium (they really know how to re-use the spaces built for their big events here; this space, as well as the Olympic Park, were being very heavily used by today's Seoul citizens; in other words, no mostly-empty Alamodomes for them!). This mall has a food court, but it's both similar and quite different from ours at home. There were lots of little restaurants serving all kinds of food, but one central menu and pay station. You pick your meal by number (many of them are displayed in pictures so foreigners will know (sort of) what they're ordering) and pay for it and are given another number.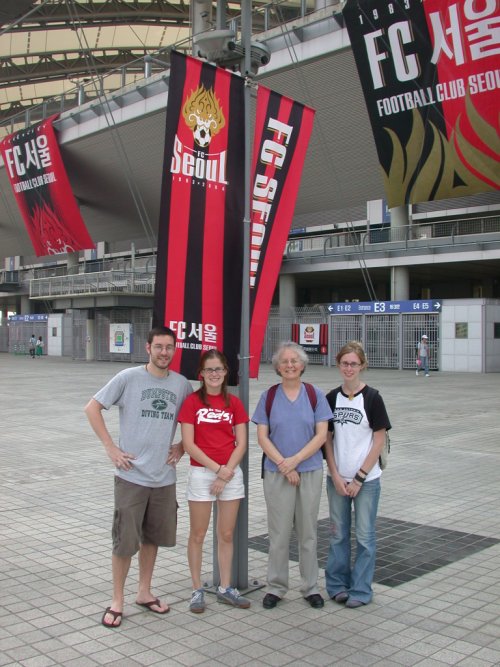 Then there are big lighted boards for each restaurant and you just watch yours for your number to come up and then go get your food. So
well organized! The food was good and very inexpensive (Henry got an enormous plate of sushi for under $10 and all of our dishes came with soup and kimchi (of course!) even though these items weren't pictured. Hal and Carey had never been to one of these establishments before, so we all had the pleasure of a new experience.
We still had plenty of time before the game and went out into the park to relax, read and throw Hal's frisbee. Since it was a pleasant Sunday afternoon, the park was full of relaxing Koreans. Sort of like Brackenridge Park on Sunday, but with no vehicles. Lots of inline skaters, badminton players, more adorable kids, some groups in similar clothes that were probably church or school groups—in short, a similar but still quite different experience. Several folks were intrigued by the frisbee and joined in the tossing.
Towards game time we packed up and headed back to the stadium (which is a quite impressive structure that Hal says can hold 64,000 fans). There weren't that many there last night to see home team FC Seoul (FC 서울) play Daejeon (대전), but our estimates ranged from 10-20,000 and they were very enthusiastic. There was a lot of singing, club-flag-waving, cheering, and even fireworks and flares. It looked like a miniature version of a European or Latin American crowd.

The game was very entertaining and we were impressed with the level of play. Lots of cute players, too (and our seats were very good and close to the field). The home team went behind 2-0 early but ended up tying 2-2 and after Daejeon looked much superior early on it ended up being a pretty even match. There was very little English spoken on the PA so we felt like it was a quite authentic modern Korean experience.
| | | |
| --- | --- | --- |
| teams and mascots during the national anthem before the game | | |
Our agenda the next two days is fairly limited. We only have one excursion planned for tomorrow and will spend the rest of the time packing and getting ready for our LONG flight home. And of course we'll have our last Korean dinner tomorrow night.