We saw some of the Asian X-games today. The only event that was actually in competition while we were at the main site was female wall-climbing, pretty impressive. We enjoyed watching some skaters warming up, though, too.
Then we rented bicycles and rode about 5 km down the river on a nice bike path to where the wake-boarding competition was taking place. Sally had particularly wanted to see this. We only got to see a couple of competitors, but it was fun and gave us a nice rest before biking back to the rental place.
| | | |
| --- | --- | --- |
| X-games flyer | | X-games schedule on the back |
There was a good representative sample of energetic Koreans on the bike path—other bikers, skaters, walkers, runners and even a couple of funky little scooters. Families, young and old couples and people alone, casual exercisers and hard-core athletes. Very enjoyable. The river Han is quite wide and pretty scenic, taking into account the other half of the city on the other shore.
| | | |
| --- | --- | --- |
| Since my bike had a basket, I got to carry the frisbee | | Hal and Sally take a break from tossing the frisbee along the River Han (한강) |
We went to a nearby neighborhood with lots of neat shops and interesting signs and had lunch at a "good restaurant" (it had a sticker that said this—Hal says it's a rating system like AAA). We are getting more used to Korean food and enjoyed the meal.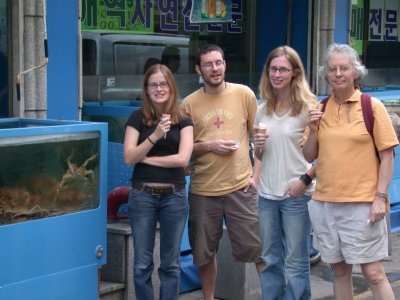 enjoying ice cream after lunch (watch out for that crab, Sally!)
Back to the apartment and crashed afterwards. The biking was quite tiring in spite of the level terrain.
Henry and I did work on our pictures, though, and I will send off some additional messages with pictures attached showing some of our previous excursions before I go to bed.
Go, Spurs, Go!