We had a full day of sightseeing and lots of different experiences today.

We started with a walk past the large Gyeongbokgung (경복궁) Palace, where we just happened to hit it while a guard changing ceremony was taking place. Pretty cool! After the ceremony there was a place where you could don the gorgeous robes of the guards and get your pictures taken, so Henry and I couldn't resist that. Hopefully we'll figure out how to download our pix to Carey's Apple later today and can send you one of these priceless illustrations! [continued below]

Gyeongbokgung Gate behind the guards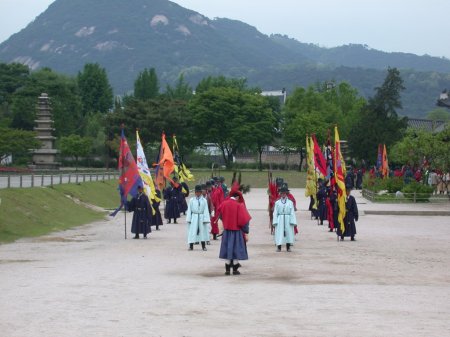 preparing for the ceremony (note the mountains nearby)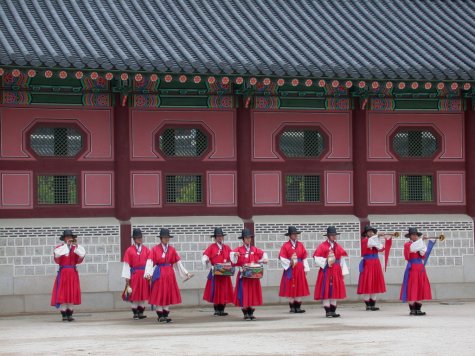 ceremonial music

a marching band, traditional Korean style
beautiful Korean rooflines

We didn't stay at G-palace too long, though, since Hal &Carey had already seen it. We went on a little further to Changdeokgung (창덕궁) Palace and took a tour of it.

An amazing place, most of the buildings dating from the 600's. The site was a palace even 300 years earlier, but it was burned during one of the many invasions Korea has experienced. Beautiful buildings and peaceful grounds, with a lot of interesting history from our English-speaking guide. There are tours in Korean, Chinese, Japanese and English at most of these places, so the English gets all of the western tourists, no matter what the nationalities. I think I heard at least 5 or 6 different languages in the crowd! It's a demonstration of how quickly we've adapted to life here, I think, that seeing so many Caucasians all together looked odd to me! We haven't been stared at too much (Hal warned us about this) except by kids, occasionally.
the Palace Library [I could enjoy working there!]

details of the complex

large main square of the Palace

happy tourists taking a rest break
view through a doorway

lovely flowers, lovely buildings

through a breezeway

amazing roof details
After the C-Palace tour we walked through Insadong, a sort of super-La Villita full of an amazing mix of souvenir shops and high-end clothing and pottery/art stores. On Sunday it's pedestrians only there and was very pleasant in spite of occasional showers. The people here are obsessed with not getting rained on; I've never seen so many umbrellas! So walking on the crowded sidewalks was occasionally a problem.
Highlights of the Insadong (인사동) excursion: lunch in a beautiful little restaurant with lovely wood everywhere—furnishings, ceilings, floors.
The food was ... interesting. I have decided that kimchi (김치) and I don't exactly get along, but Henry likes it ok. Sally and I shared an enormous vegetable/potato pancake that was very tasty, Hal had a huge plate of incredibly spicy meat, veggies and tofu, and Carey and Henry each had bibimbap (비빔밥), a veggie/rice dish that you slather with red pepper paste to taste.
Personally, I have accepted my wimp status regarding Korean food, and will stick to the blander items.
Second highlight: Henry was approached by two different groups of Korean schoolgirls who had assignments for their English classes to interview English speakers. The kids thought this was hilarious and Sally got a picture of one of the interviews.
| | | |
| --- | --- | --- |
| Henry speaking perfect English | | Kathy outside the "wood restaurant" |
| | | |
| --- | --- | --- |
| Kathy outside an Insadong shop | | interior of the beautiful restaurant |
We crashed upon return to the apartment, Henry actually asleep for the night at 6 while the rest of us watched DVDs and TV for a while. Henry's early night allowed him to get up in time to follow the entire Spurs game online (it started at 4:30 a.m. here). We just got thru "watching" it via yahoo.sports and were thrilled that they were able to win one in Phoenix.
The plan for tomorrow is a hike and some more shopping and sightseeing. We're on our own, though, since Hal and Carey will both be at work. I think we're ready for it!
More photos are in these Flickr sets: Miscellaneous • Gyeongbukgung Palace • Changdeokgung Palace