We had a very successful "solo" outing today—without our guides, Hal and Carey. Didn't get lost a single time!

Our first activity was to climb the summit in Namsan (남산) Park, which contains a hill/mountain of nearly 1000 ft. right smack dab in the middle of this very urban area.

It was a pretty strenuous climb, mostly accomplished through very long flights of stone stairs, but the views of the city were marvelous and we enjoyed it very much. We saw lots of Korean fitness hikers and several groups of cute school kids on field trips. [continued below]

Kathy and Sally enjoying views in Namsan Park
lots of cute kids exploring the "beehives"

sculpture in the Park

part of the trail was quite steep

view of Seoul from Namsan Park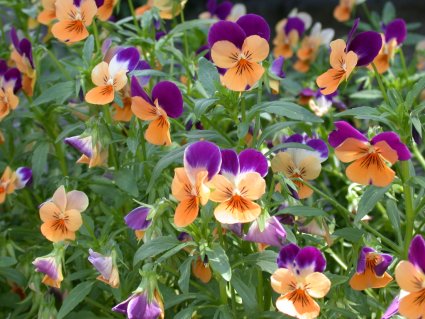 Namsan Park flowers

Seoul Tower (엔 서울타워) in the trees

view of the mountains around Seoul from the Park
From Namsan we took a bus (this was quite an accomplishment, since the buses aren't nearly as non-Korean-speaking-friendly as the subway, where the upcoming stops are even announced in English, as well as the maps being all bi-lingual) to Namdaemun (남대문) Market, an amazing place of tiny narrow streets filled on either side with small booths selling everything from coat hangers, to socks, to ... Astros jerseys! Yes, that's my souvenir for myself, got it for a good price, too. One of the streets was just open air kitchens serving all kinds of really strange food—strange even by Korean standards, which, believe me, is pretty strange.
Thanks to Sally for this picture of Henry at Namdaemun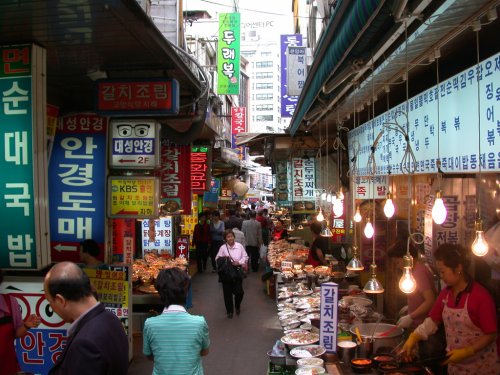 Another view of Namdaemun
Speaking of Korean food, we had a nice dinner with Hal (Carey had to work late) at a Korean bbq place in his neighborhood where they bring you the cut-up meat and veggies and you cook them yourselves on a little grill built into the table. The food was quite tasty and Henry enjoyed the opportunity to grill away from home.