I am the oldest of three children and was born in February, 1949. Little sister Joan came along three and a half years later, in September of 1952. We had to wait a while before our little brother Steven Stewart (he got a middle name; Joan and I didn't!) made his appearance, in the summer of 1959.

Our parents were June Elizabeth Greenstein Lewis and William David Lewis, childhood sweethearts who grew up together on Houston's near north side and graduated from Jefferson Davis High School in 1939 and 1938, respectively. Dad joined the Army Air Force when World War II started and served as a navigator/bombardier in B-26 medium bombers, stationed in England. They were married as soon as possible after he returned to the U.S., on April 13, 1945. (Yes, it was a Friday! Mom always considered Friday the 13th a lucky, not an unlucky day.) You can learn much more about their lives during the War by reading Dad's Journal and letters, elsewhere on this website. The picture at the left was taken in 1946.
Dad re-enlisted in the Air Force in 1951, soon after the Korean War started, and remained in the service until his death,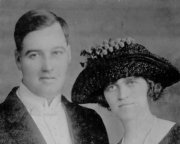 on April 18, 1960, in Great Falls, Montana. Mom never even considered re-marrying. After the school year was over in June of 1960, we moved back to Houston, where most of both her and Dad's families still lived. Mom passed away just after Thanksgiving, on November 27, 2004, after a life full of love for her family (especially her four grandchildren), friends, work, and baseball—but always missing Dad.
Mom's parents were Annie Pearl Cox Greenstein (Momoo to us, Pearl to her family and friends) and Edward Adolf Greenstein (Popoo/Ed). The Cox' were originally from Navasota, Texas, northwest of Houston. Mom told us that Popoo had something of a wild young adulthood and that Momoo's family did not approve of him (her father was a Methodist preacher), so they had to elope. During Mom's childhood they lived at 2419 McKee Street in Houston, but in the early
1940's they moved to the house we remember so well, at 2314 Watson. Popoo was an engineer with Southern Pacific Railroad until his retirement in 1958. The picture at the right is of them when they married, in 1911.
Momoo had some older siblings who died before I was born, but I remember well the three that remained. Aunt Muriel (pronounced "Merl") Yiengst and her husband Harvey lived right around the corner from the Watson house, at 2124 White Oak Drive. Uncle Horace Cox, Momoo's brother, and his wife, Aunt Mabel, lived in San Antonio, near Thomas Jefferson High School, and I remember occasional visits there, as well as the Cox' coming to Houston. Aunt Myra Kinsey was divorced by the time I was born and did not remarry. She was the baby of the family, several years younger than her siblings (in fact, Popoo usually called her "Baby"). The picture on the left shows Aunt Myra, Momoo, Aunt Muriel and Uncle Horace, in 1972.
Popoo and Momoo had three children. The oldest was Donald Wilkes Greenstein and his younger brother, by just a couple of years, was Edward Adolf, Jr. (known as "Bub"). Mom was the baby of her family, born several years later. Uncle Donald and Aunt Violet had two children, my cousins Don and Junie. Uncle Bub and Aunt Nonie also gave us two cousins: Nancy (Momoo and Popoo's first grandchild, and the "inventer" of their names: she was said to have called them "Momoozie" and "Popoozie") and Edward Allen, known as "Bubbie." All of our Greenstein cousins were several years older than us and were much looked-up-to. The picture at the right is of Mom and her brothers, Uncle Donald on the left and Uncle Bub on the right. The photo is undated, but it was probably taken in the the mid-1920's.

Dad's parents were Una Stewart Lewis (Mamaw) and Arthur Benjamin "Dick" Lewis. They had three children: Arthur, Dad (Billy) and Betty. Arthur was some years older than Dad, but Dad and Betty were only two years apart (exactly—they had the same birthday of March 21). Their father was killed in an automobile accident (Betty told us he was thrown from a running board) when the children were quite young and Mamaw raised them by herself, supporting the family by working various secretarial and clerical jobs at Humble (later Exxon) in Houston. She did re-marry, but not until the children were grown, in 1944, to Joe Nolen. The picture at the left is an undated one of Mamaw.
Uncle Arthur and Aunt Lillian had four children: Lucille, A.B., Jr. ("Sonny"), Mary Jane, and Larry. The older three were, like the Greenstein cousins, significantly older than us, especially noticeable when we were children, but Larry is Joan's age. Betty never married, but her life-long companion, Ann Boring, was considered part of the family.