| | |
| --- | --- |
| | O'ahu—Around the Island |
Our first junket away from the crowds of Waikiki was to the island's north shore, where we had hoped to see an international surfing competition. We were disappointed in that, since the competition was cancelled due to less-than-perfect waves. But as you can see in our surfing pictures, it was still pretty impressive. And, as you can see below, we found other things to do and watch as well.
We spent a nice, relaxing hour or so at one of the parks near Haleiwa (I think it was Mokuleia, but we didn't write it down!). Henry and Kathy did a little snorkeling, and we all enjoyed the scenery....
.... as well as the local wildlife:
A local was looking for shells, but we just enjoyed the sand, rocks, and sun:
We covered the most ground on our next-to-last day in Hawai'i driving up to the north shore again, snorkeling at Kuilima Point, then heading down along the eastern coast. This stretch of highway offers some of the best scenery in the islands, which meant lots of pictures were taken. This first group is from the area between Kuilima and Kaoio Point, which is an incredibly gorgeous knob of land. We stopped several times to watch surfers, enjoy the lovely sea breeze, take pictures, and eat the greasiest shrimp imaginable, which we bought at this roadside stand near Kuilima: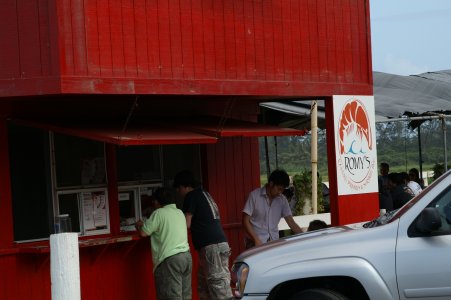 Beaches, trees, mountains—what more do you need!?
Who knew O'ahu had such beautiful mountains? I was certainly surprised by them.
We had heard that some of the establishing shots of the Jurassic Park island were filmed near here and we could certainly believe it with vistas like these:
One of the nicest parks we stopped at was Kualoa, on the Kaneohe Bay side of Kaoio Point.
At this stop we began to get good views of the very photogenic island called the Chinaman's Hat (Mokoli'i), just one of many islands just off the coast from here on south.
There was actually lots of human activity in the parks on this Sunday, even though the pictures above make the area look deserted.
Not having the time to see all of this beautiful side of the island, it was an easy decision to spend our last, very full day in Hawai'i doing just that. One of our first stops was at the Halona Blowhole, just east of Koko Head, and not far from Honolulu. It presents a pretty impressive, geyserlike spray of water, and more frequently than Old Faithful! We even have a 13 second movie of it here. Below you'll see a close-up view in the middle, flanked by two shots of Sandy Beach that show it in the background.
Of course, the waves crashing on to the rocks are pretty scenic even without the blowhole feature, and even nicer when graced with the addition of attractive young tourists. Kathy liked watching the waves so much she even made a 40 second movie of them, near the Blowhole.
After seeing the Blowhole, we took a short scenic hike up to Makapu'u Point. You can see pictures from that hike here.
Our final Hawaiian activity was snorkeling off the beach at Lanikai, a funky little residential community which, we were very glad to learn from Hal's guidebook, allows public beach access through a series of little paths. As well as amazing mountain views at the other end of their streets. The snorkeling was fantastic and the beach and scenery were, too. What a great way to wrap up our vacation! Although it made it extra hard to leave...
---