| | |
| --- | --- |
| | Hawai'i: Our First Island Vacation |
At our son Hal's suggestion, we made our first trip to the islands, staying from December 6–17, 2006. The idea was to meet Hal and his girlfriend, Carey, on their way home from their Asian bike trek. So not only did we have a wonderful visit in this American paradise, but we also got to see the kids home safe and sound from their adventure a little sooner.
We only saw two islands from the ground—O'ahu and Hawai'i, the Big Island. (We saw Maui, Lana'i, and Moloka'i only from the plane and will have to save them for a future trip.) But each offered plenty of photo opportunities and we took advantage of them! We hope you enjoy the resulting photographs, displayed on the following pages:
Here is our glimpse of Maui, as we flew over it on our way to the Big Island. I hope we can see it up close on our next trip!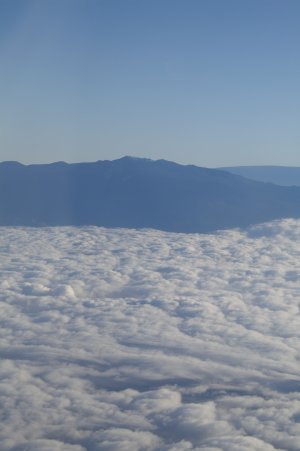 ---
The photographs shown on these pages have been reduced in size for easier arrangement on your computer screen. We have copies of the originals, which were shot in high enough resolution to allow for good prints to be made and even some enlargement. If you are interested in having any of these hi-res originals, let us know.
All photos, unless otherwise credited, are © by Henry J. and Kathleen Amen. Please do not use without permission.
---
Back to Kathyamen.net home page