Volcanoes
National
Park
We spent parts of five days on the Big Island, and two full days in the area of the Park. What an amazing and wonderful place! It had been first on our list of sights before the trip and we weren't disappointed.
These were our activities and the main areas we visited:
Our base of operations while we explored the Park was Volcano B&B, a rustic but comfortable accomodation in the little town of Volcano, just a 10-minute drive from the Park entrance. Here's what the place looked like from the outside and inside our room (the "Ohia," named for the lovely red flowers we saw all over the area). Below is the view from our window of, naturally, an ohia tree.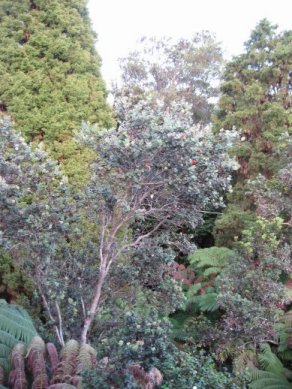 ---