| | |
| --- | --- |
| | Surfing |
Of course, surfing is one of the favorite activities of Hawaiian residents and visitors. We didn't get to see the kids trying their hand at it themselves, but Henry did get some great action photos of strangers in the gorgeous waters around O'ahu. We headed up to the north shore on our first full day on the island, hoping to see some top international competition, but the contest scheduled for that day was cancelled due to the small size of the waves. For us Gulf Coast-ers (and New Englanders), however, they looked pretty big! And the non-pros that were out on them put on quite a show anyway.
Of course, not all of the guys looked as smooth and accomplished as the fellow above:
Here is one of Henry's neat sequences, showing a great north shore pipeline ride...
Competition or not, we had a relaxing and entertaining time watching from safe on shore....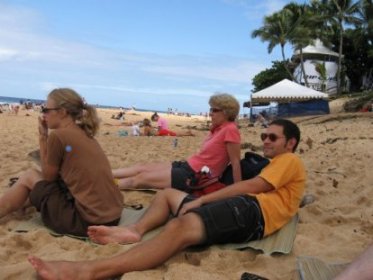 The great thing about Hawai'i is that anywhere there's a little stretch of beach, you'll find surfers to watch. It doesn't have to be a famous surfing place like the Banzai Pipeline. Here is some beautiful scenery along the northeastern shore of the island, with surfers thrown in (literally!) to make the pictures even more interesting:
Here are some more pictures Henry took at this lovely beach:
And there were usually friends watching from the shore, as well as us strangers. Most, if not all, of the surfers we saw were men. The women weren't crazy enough to go out there and get beat to pieces!
The next day we watched some surfers at Sandy Beach, just east of Honolulu, after being warned by more than one local expert NOT to try it ourselves. Apparently the surf is notorious there for breaking right on the beach and beating up surfers to a fare-thee-well. It didn't discourage the folks below, though.
First, a boggie-boarder has a good ride.... The first picture sets the scene, the next is a sequence of his ride: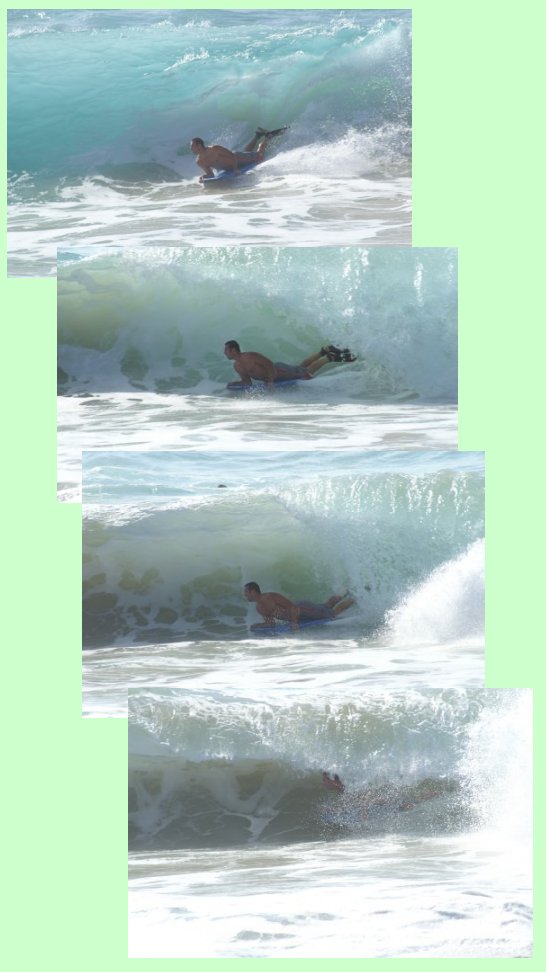 In spite of the rough surf, there was a big crowd of enthusiasts...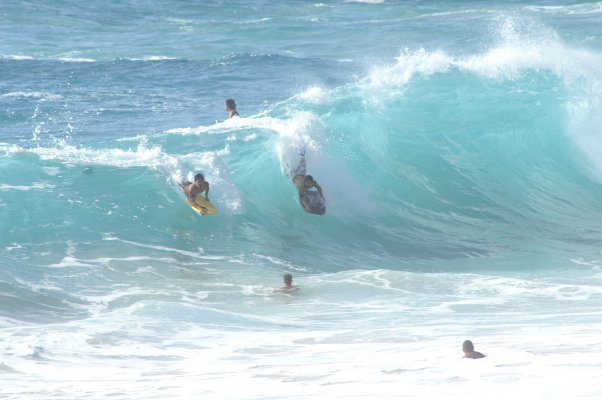 ---