| | |
| --- | --- |
| | Sacred Valley — Chinchero |
The last stop on our tour was the village of Chinchero. We went inside a colonial church that was pretty amazingly decorated, and looked at some ruins just outside it. There is also a well-regarded market in Chinchero, but we were there a little late and most of the vendors had packed up their things. Plus, we were about shopped out after Pisac. One notable fact about Chinchero: its elevation is over 12,000 feet. So our climb up to the church was rather strenuous! (Fortunately, our English friend, Russell Kennedy, whom we met in the Rainforest, had more time there on his tour and graciously shares these pictures with us.)
Here is the tower of the church, and a view from the church's doors, with gorgeous Andean peaks in the distance. (We could not take pictures inside the church.)
This is about as close to the ruins as we were able to get, and what the market looked like, considering the lateness of the hour. It gets dark early, and quickly, after sunset, when it's winter and you're as close to the equator as we were.
And, of course, there were the obligatory citizens in native garb, happy to pose for a sol or two:
---
Here are two of Russ' pictures, which give a better idea of how extensive the Chinchero ruins are:
Russ also sent these lovely panoramic shots, of the church grounds and the village in its gorgeous mountain setting:
And here's the generous photographer himself!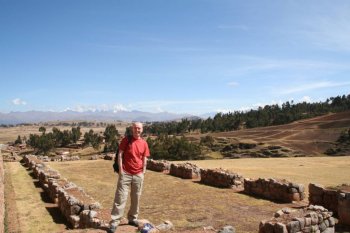 ---
All photos, unless otherwise credited, are © by Henry J. Amen III. Please do not use without permission.