There are ruins at Pisac, but our tour didn't take us there. Rather we went to their market, which is famous in the Sacred Valley for being one of the best. It certainly was large! With a section selling food and other supplies catering to locals, as well as many booths with items for tourists. We did our part to support the Peruvian economy here, and enjoyed ourselves in the process. This is what part of the market looks like, from on top, and some of the vendors' wares for tourists:
I love this picture, taken in the section of the market geared more toward locals. Aren't the colors of the dyes for sale amazingly vibrant?!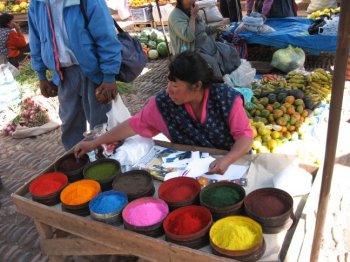 Here is an oven next to a Pisac restaurant that our guide told us was the oldest in the town (the oven, not the restaurant). We got to taste some of the empanadas being made there and they were delicious. Outside the restaurant was this guinea pig (known as "cuy" when on the menu) hotel.
---
All photos, unless otherwise credited, are © by Henry J. Amen III. Please do not use without permission.