Final Missions

(Fall, 1944)

The snapshot on the left was taken of Billy in France,
sometime after his promotion to Captain.
---
Billy began slighting the write-ups of missions in his Journal after D-Day, as is obvious from looking at the last few entries. There are several possible reasons for this, one of which might be simple "journal fatigue." Contributing factors might have been Billy's probable expectation of soon being sent home, as well as the busy schedule kept by the Marauder units as they began to move from base to base, following the advancing frontlines. He also became Squadron Navigator for the 455th, as he reported in his journal entry of July 20. This position quite likely required more time spent on administrative tasks, such as training, planning, and certainly, paperwork; in short, leaving less time for journal writing.

We do know that he flew at least four more missions after #62, the last mission noted in the Journal, going by the pages shown below from his little notebook. (In fact, according to the information given in his Qualification Record the missions add up to 67! But details of this final mission will have to remain a mystery, since I found no mention of it in the notebook.) Only one of the missions came after Billy's promotion to Captain, which happened on August 19.
| | |
| --- | --- |
| | |
Billy did not leave the E.T.O., however, until October. Our evidence for his movements after the Journal ended, until he left active military service in 1946, comes from letters to June and from copies of official Army orders. These orders give a fascinating picture of the workings of Army bureaucracy and just a hint of the monumental logistical task involved with so many men heading home as the end of the war approached. The orders linked in the paragraphs below are those marking the major events of Billy's post-European Army career. For a complete index to all the orders we found, click here. (The orders are all in PDF format.)

Billy spent at least some of the period between his last mission and his departure for the States, on leave and "awaiting transportation to the Zone of the Interior" (Army jargon for the U.S.), as we know from this Army order dated September 23. That this waiting period was most likely spent in England is corroborated by letters that he wrote June: his last letter from France was dated September 24 and the next letter was written in England and dated September 30. He wrote again from England on October 3, his last letter before coming home. His Officer's Qualification Record form states that as of September 27 he was engaged in "travel, processing and awaiting assignment."

This waiting period was somewhat lengthy, as he was not authorized to fly home until October 20, as indicated in this Army order. On October 23, according to this order, he found himself in a familiar place—Presque Isle, Maine—where he had bid farewell to the U.S. over a year before. (See the story of his first stay in Maine in the Crossing section of the Journal.) He was ordered to report to Fort Sam Houston in San Antonio on October 26. From Ft. Sam he was sent to Miami, and finally on to Santa Ana, California, where an untimely bout of chicken pox kept him from spending Christmas and New Year's in Houston.

In early January, however, he was back in Texas, at Ellington Field near Houston, serving as a navigator instructor. But in February his dream of becoming a pilot began to be realized as he was assigned to the San Antonio Aviation Cadet Center to be tested (again; he was also tested in California) and eventually assigned for pilot training.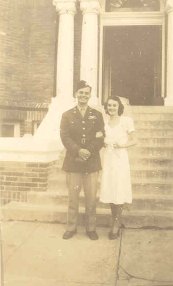 According to this order, dated March 9, he was assigned, along with several other navigators and bombardiers, to Curtis Field in Brady, Texas, for "Primary Pilot Training." This is where Billy and June were married on April 13, 1945, shown in this picture, and described in the announcement, which I believe was from the Northside Methodist Church (Houston) newsletter. (You can visit a reconstruction of the Curtis Field control tower in Brady, and peruse the impressive collection of military artifacts and papers at the Heart of Texas Historical Museum.) Less personal Army forms reflect Billy's change in status as well. They spent the first year of their marriage moving frequently
from small town airbase to small town airbase—Pampa, Texas; Enid, Oklahoma; San Angelo, Texas; Shelby, Mississippi—as Billy went to various schools and through various types of training.
June told me that housing for young couples was difficult to come by in all of these places. She remembered going door to door with another Army Air Force wife in one of the towns, trying to find rooms for rent. With the large numbers of men coming back to the States after V-E Day, which was May 7, 1945, this housing shortage is not too surprising. (Click here for more details on how the young couple organized their household affairs during this chaotic period, and to see some more photos.) During one of the training periods, Billy and June had to be separated, since he wrote letters to her from Louisville, Kentucky, in November of 1946, although according to one of the letters, it sounded like the Louisville trip was something of an adminstrative mix-up. You can see his order to report to Louisville, and the one sending him on to Shelby, Mississippi, for yourself.
According to his Statement of Service Billy was officially demobilized on July 9, 1946. But he was put on inactive status May 2 and given 66 days of leave, according to this Army order. This documentation supports information from June, who remembered that he began classes at Sul Ross State Teachers College, in Alpine, Texas, in June of 1945. With so many men back home and with nothing for them to do in the service, it is not surprising that if a young man wanted to start college he could do so before being officially mustered out.
If you want to get a idea of the extent of Billy's (and June's) travels in the U.S., take a look at this map
We found several documents pertaining to Billy's "separation" from the service in 1946:
In addition, Billy also received the following official certificates of recognition for his wartime service:
We also found this picture, which I think was taken at Camp Shelby, based on the documents with which we found it. However, no identifying notes appear on the reverse. Billy is in the back row, fifth from the left (behind the woman with the plaid blouse):