Parades | Architecture and public art | Scenery | People | Food | Our hotel
Here are the rest of our pictures of Cusco, ones that didn't fit into any of the major categories. There are a few pictures that are also shown on other pages, particularly some of the scenes of eating. But those Peruvian meals were memorable enough to be shown twice!
Architecture and public art
The famous Inka walls of Cusco are everywhere in the tourist district and are justly celebrated. Here are two pictures of walls alone and one complete with Cusqueñas:
There were a couple of colorful mosaic murals on the Avenida del Sol, between our hotel and the Plaza de Armas, so we saw them often. The one on the left shows a map of Cusco in Inka times.
Here is another street leading toward the Plaza: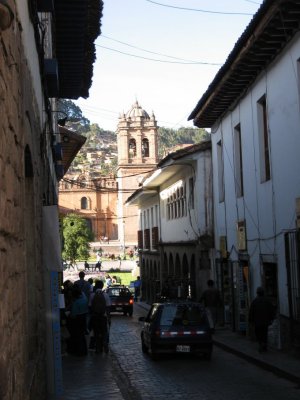 Scenery
Cusco and its surroundings are incredibly scenic. Here are two pictures taken during our archeological tour, probably from the Sacsayhuamáman hillside. The distant peak at the right is Nevado Auzangate. Its elevation 20,275' and it is located some 50 miles from Cusco.
Here are two views of Cusco from the hillsides surrounding the city:
Parades
We had read that Cusco puts on a large number of festivals but weren't fortunate enough to see any official civic celebrations. We did happen upon a couple of parades, though, one of which was quite large. Henry took some pictures of this parade's participants. They were mostly young people and they were marching in support of the environment.
Here is our group taking in the parade from the grass of Coricancha; we're in the background of the shot of the stiltwalker, too:
Henry was most taken with a group of young ladies in native dress, so most of the parade pictures are of them:
The other parade looked like it was one particular school taking to the streets, namely, La Avenida del Sol, where we had stopped for lunch on the way back to the hotel on our last afternoon in Cusco. We have no still pictures of the school parade, but here is a 50 second video clip Henry took of it. (The clip may take longer than that to load.) Notice Coricancha in the background.
Food
The food all over Perú was memorable, and some of the best meals we had were in Cusco. Unfortunately we don't have pictures of all the restaurants visited; even the holes in the wall had fantastic food.
At the left, we're waiting for our tea at the Crosskeys pub, where we went to watch the opening game of the World Cup. We had to wait kind of a long time because there was only one waitress—not very good planning for such a big occasion! The Crosskeys is a standby watering hole on the Plaza de Armas.

And at the right, we're at La Fonda—on Avenida del Sol, not on Main! This is where we were eating when we saw the school parade go by.
| | |
| --- | --- |
| Here we are at the Inka Grill, another famous eatery on the Plaza. The picture was taken by a helpful fellow tourist. We girls will never forget the yummy Andean ravioli (stuffed with squash) that we all ordered. | |
| | |
| --- | --- |
| | Here we are having coca tea after an exhausting, but fun, day of touring archeological sites. This funky restaurant was found for us by Abelardo, our guide. With no signage, we'd never have found it ourselves, and probably wouldn't have gone in without him, either. |
People
Here are two shots of Cusqueños in native dress posing for soles, a common occupation in the area:
Our hotel
We were pretty impressed with the view from our room on the 5th floor of Hotel El Puma, near the intersection of Avenida Garcilaso and Avenida del Sol. It was a corner room and had big picture windows on two walls.
The amenities were nice, too. Here's Joan with welcoming complementary cups of yummy coca tea, and Kathy checking email. (We later discovered a cheaper internet place around the corner, but it was convenient having access in the hotel.)
Here is a picture of Kathy taken from across Garcilaso:
---
All photos, unless otherwise credited, are © by Henry J. Amen III. Please do not use without permission.