| | |
| --- | --- |
| | Lima — Palacio Torre Tagle |
This beautiful colonial building, not far from the main square in downtown Lima, was once the residence of a wealthy Spanish family. Today it houses Perú's Ministry of Foreign Affairs, and Uncle Nelson had to pull a lot of strings to allow us to tour it. After working the phones for several days, he was able to set it up for Sr. Néstor Benavides, the gentleman on the left below, to show us around.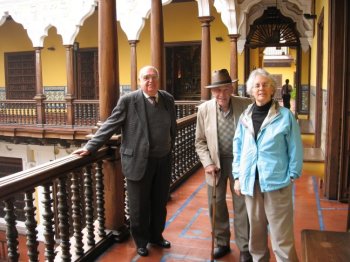 Of course given its present function, we weren't able to see all of it, but what we saw was quite impressive. Like all colonial structures, it had a large central courtyard that used to be where the carriages, like the restored one shown here, would drive in. On the left you can see the entrance to the courtyard from the street.
Here are two views of the courtyard from ground level. On the left, Uncle Nelson is with the cane. He hadn't gotten the memo yet about Henry liking to take pictures of people, which requires frequent posing.
The most famous features of the palace are the gorgeous wooden balconies on the front wall. On the right you can see one of the balconies from the inside. The picture in the middle shows a view similar to that on the Peruvian 20-sol currency notes.
As impressive as the outside of the structure is, with the ornate balconies, the interior is even more breathtaking. Here are two views of the courtyard space from the surrounding arcade.
Here are a couple of different conference rooms. You can imagine pretty elegant dinner parties here!
Perhaps the single most amazing element in the palace is the stunning woodwork. Here is an incredible ceiling, a wooden grille, and a restored bowsprit, used for decoration.
But, then, there was the intricate tile work...
Here are two more examples of the fabulous detail work in the building.
And you can't believe this altar... for private family devotions, I suppose
---
All photos, unless otherwise credited, are © by Henry J. Amen III. Please do not use without permission.