| | |
| --- | --- |
| | Punalu'u Black Sand Beach |
Just about 10 miles up highway 11 from the southernmost everything in the U.S. you'll find this gorgeous and amazing beach. The grains of sand are like little black jewels and the setting is equally beautiful. Plus, we saw not one, but two, sea turtles during our stop. We couldn't help taking lots of pictures in such a beautiful spot. Here is our best shot of the sand itself, along with a couple of useful signs we saw in the park:
In these photos you can see where the black sand comes from—lots of old lava flows:
The area was a very nice park, with enough amenities and beautiful beachfront to attract tourbuses, but we happened to hit it during a lull.
Of course, as on any beach in Hawai'i there was also the endless fascination of the waves splashing on the rocks...
... as well as the quieter pools sheltered by moss-covered lava, and the ever-lovely sunlight on the water...
We saw this one, resting on the warm black sand of a sheltered little cove, almost as soon as we got out of the car:
Here Henry took a shot looking back at him as we moved over to the main beach....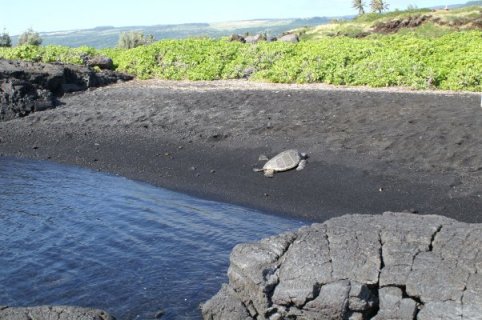 Where we saw this fellow (?):
But the real excitement happened when Henry went back to check on our first sighting. He (the turtle) was just starting to make it back into the water, allowing Henry to take this sequence of turtle locomotion:
This was our last stop before Hilo and our flight back to O'ahu, but it was one of the Big Island highlights!
---