Our friends live in this lovely city that was once a "bedroom community" for the German aristocracy. It suffered some serious neglect as part of the DDR (East Germany) before reunification, but is regaining its status as a beautiful and convenient "exurb," just a short train ride from the big city. Graced with multitudinous lakes and rivers, it seemed to us to be practically all parkland, dotted with handsome mansions being fixed up and loaded with sites of historical signficance. You can see larger versions of these photos, plus many more, in this Flickr set. Here's my blog post on this part of our trip for first impressions. And if you want to follow our sight-seeing geographically, here's a map with the highlights of our visit marked:

View a larger version of my Potsdam map here.
---
Our first evening in town we took a bike ride along one of the waterways, the Havel River, to the un-imposing-looking bridge pictured below. It's a very significant place, however ordinary it looks today. The river formed the boundary between West Berlin and Communist East Germany, and the Glienicke Bridge (Glienicke Brücke) was the site of some spy exchanges during the Cold War.
For all its exciting past, its serves mainly a utilitarian function in a united Germany, being on the main thoroughfare leading to Berlin. Although we also found it useful for providing nice views of the large homes along the waterways, like those below. I believe those on the left and right are on Jungfrausee (literally translated as "maiden (or virgin) lake").
Another famous historical site is right on the lake, too, and we rode past it on our bikes in the gathering dusk of the late November afternoon. This is Cecilienhof, site of the postwar Potsdam Conference, where defeated Germany was divided up, supposedly temporarily, among the victorious allies. Our knowledgeable hosts pointed out that the bay window you see here here is looking into the conference room where the eventual treaty was signed. A very sobering historical reminder in such a peaceful setting.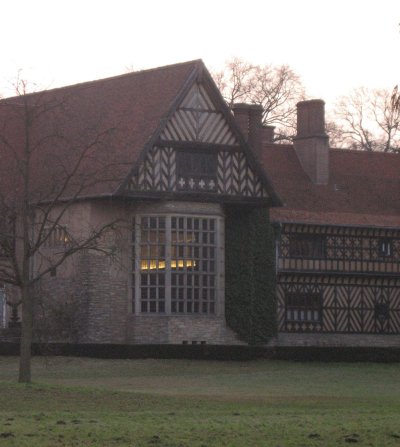 But of course not all of our activities had such somber overtones. After biking along the lake for a while, we turned back to the Altstadt (old town) and warmed up (which was most welcome!) with some Glühwein (mulled wine):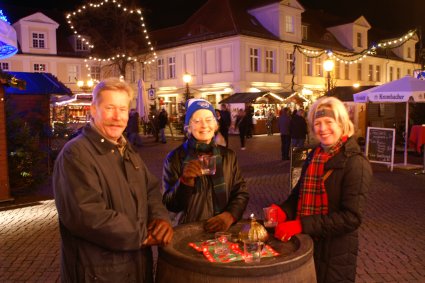 Sunday evening we had some more of this yummy stuff as we relaxed with a visit to a local Christmas market, complete with seasonal goodies and entertainment.
We needed sustenance to recover from our full day of biking and sight-seeing, taking in some of Potsdam's major architectural landmarks (and wishing we could see some of its gardens in bloom). All of these wonders are located in or right next to Potsdam's Park Sans Souci, which we simply have to revisit in warmer weather.
First stop was the Friedenskirche (Church of Peace), a small structure with both artistic and historical points of interest.
The history part is shown in the middle below. It's a mausoleum for Frederick the Great's father, Kaiser Friedrich Wilhelm I.
My favorite site in the church, however, was the interior of its dome, decorated with these fabulous mosaics:
Our next stop was another architectural wonder, on a somewhat different scale than the rather intimate Friedenskirche. It's the New Palace (Neues Palais), a gargantuan baroque showpiece whose construction was begun by the aforementioned Frederick the Great.
Here are a selection of views of this amazing building:
We didn't have time to go inside for a tour, which would probably have taken several hours, but were sufficiently impressed with the decor of the outside. In particular, the statuary:
Next up was this charming Chinese tea house . It reminded us of the Chinese pagoda in Battersea Park in London, and of a similar exotic outbuilding on the grounds of the Linderhof castle in Bavaria.
Like any other park, Sans Souci has its permanent residents, such as these ducks: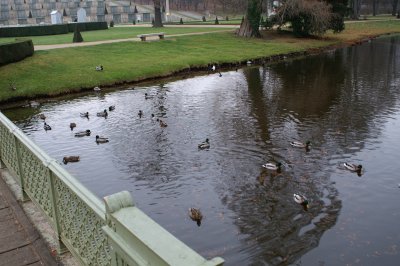 Now for the main attraction of the Park, the Sans Souci Palace itself. On the left is the approach to its garden facade, showcasing the impressive terraced gardens. And on the right I'm standing in front of that facade, looking back towards the rest of the park, and the main section of town on beyond.
Again, we opted not to go inside, but rather enjoyed the architectural splendor of the palace by touring the outside for ourselves. Here is the garden facade which was seen at a distance above, closer up. And even closer up on the right, complete with American tourists.
Amazing decorative details are what really make baroque architecture so fascinating. Here is a little gazebo near the garden facade. You can try to imagine having a Sunday brunch amidst such splendor, can't you?
And here are more glimpses of the grounds, including the Palace's own windmill.
Domestic architecture in Potsdam isn't as elaborate as the palaces, but it's still quite lovely and decorative. As you can see in this shot of our friends' street: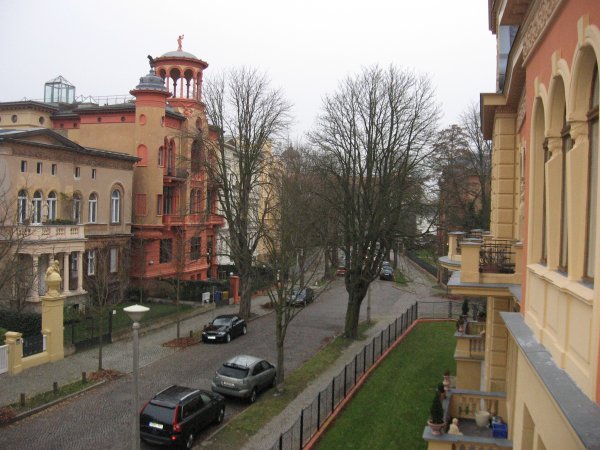 What a neat place to live! And with views like this just short bike ride away: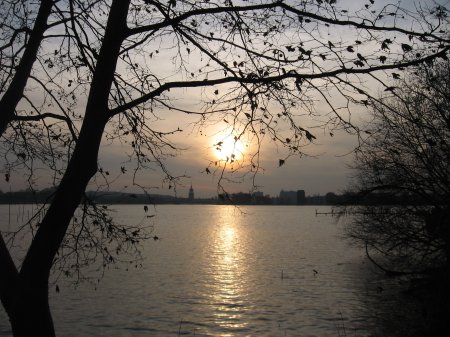 ---