The photo of St. Paul's on the right above was not taken by me or my husband. It was taken near the end of 1940 during one of the London Blitz' worse nights. Buildings all around St. Paul's were destroyed, but it remained relatively undamaged (thanks in large part to heroic efforts by fire-watchers who kept many little fires from getting bigger and engulfing the structure). And its survival, movingly captured in this photo, was a great morale boost for the beleaguered city, and reinforced its importance as a cultural icon for London and England as a whole.

We were fully aware of

St. Paul's

historical importance (although we learned a lot more about it in the museum in its basement, and you can, too, at the website linked above). And we were moved and impressed by war memorials throughout the interior of the cathedral, where pictures aren't permitted. But it would be a most spectacular place even without the history, and the views its upper galleries afford are marvelous to see.
You can see larger versions of these photos, plus more, in this Flickr set.
---
Of course, views of St. Paul's—which are on offer from all over the city, especially on clear, sunny days—are also marvelous. And not just because they are guaranteed to start "Feed the Birds" playing on the mental record players of anyone old enough once to have owned a record player. Here are two good examples of how striking a landmark it is. On the left it's seen from a ways upstream, with Blackfriars Bridge in the foreground and on the right from the south end of the Millennium Bridge, which crosses the Thames even with the cathedral.
As you get closer, the building becomes more and more impressive, with its many architectural wonders providing great photo ops from every angle. Here are shots of its front towers, looking down Cannon Street, on the left, and of its famous dome, seen from Newgate Street, around on the other side:
And here are three of my favorite photos of the cathedral, close-range views of Christopher Wren's masterpiece taken on the day of our St. Paul's tour (note the time on the clock, we'll check in with it again):
Speaking of Wren, which is practically essential to appreciating London churches, Anna Quindlen remarked, in Imagined London, that his
"...contributions to the architecture of London in sheer number suggest that he never slept nor ate sitting down..."
---
Climbing the cathedral's dome was the high point—sorry for the pun—of our visit. It's a long trek, but as you'll see below, the views of London near and far are very much worth it.
The first set of stairs you face are those on the left—not too narrow, since the largest groups of people use them to get to the first stop on the way up—the Whispering Gallery, which is 99 feet or 259 steps up. Pretty nice views for not much climbing:
Stairs to the Whispering Gallery

Tate Modern and the Millennium Bridge
(and what's up with the bridge? answer to come later...)

View to the east; note the famous "gherkin": 30 St. Mary Axe
Here are two photos of the Gallery itself, and a closeup of one of my favorite little decorative touches, among many, that the cathedral offers—the gold "topknot" on top of the clock tower:
Many tourists stop with this Gallery, but just 125 more steps, at 173 feet, you'll find even more spectacular views from the Stone Gallery. Here is one downstream and one straight across the River, showing the oddly empty Millennium Bridge again (answer to this puzzle: they were performing a routine inspection of the "wobbly bridge" so it was closed for a few hours the afternoon we went to St. Paul's):
The next 150 or so steps are a little harder to manage than those closer to the ground, but they take you up to the pinnacle, the Golden Gallery, 280 feet up and as high as you can climb in St. Paul's. Where you can look down on those lovely "topknots" from quite a vantage point:
And where you can also get panoramic views like this one: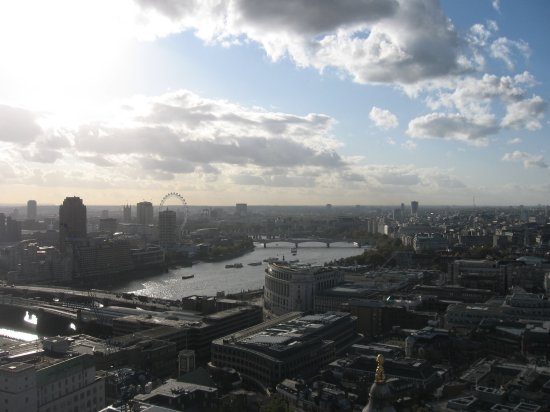 All in all, the climb wasn't too hard at all, and we enjoyed both the journey, the interim, and the ultimate destinations. And it didn't take too long, either, leaving us time to spend in the museum and touring the incredible interior space of the cathedral. You can follow the time of the climb with these photos of the clock tower (the first one was taken about the same time as the ones above, before we entered St. Paul's):
| | |
| --- | --- |
| from outside the cathedral | from the Whispering Gallery |
| from the Stone Gallery | from the Golden Gallery |
Finally, on two different occasions we discreetly broke the no-pictures rule inside the Cathedral itself. Henry took the photo on the left of the window in the American war memorial chapel, and I took the one looking up at the fabulous dome from almost directly under it, just before an evensong performance (here is my blog entry about the evensong visit to St. Paul's):
---
Back to Dream Season home • Back to London home • Back to Churches home