Thanks to very generous and gracious friends, we were able to spend a glorious November weekend in the Veneto of Italy, one of my favorite places in Europe, if not the world. Although all too brief a visit, we had a marvelous time and saw an amazing array of sites. And our friends were terrific tourguides, being amateur art and political historians who obviously are fond, and proud, of this fascinating area.
I crammed the whole weekend into one long blog post, which you can read here. But there are separate web pages for each of the "V" cities we visited: Venice • Verona • Vicenza. There are also three Flickr set, with many photos of these wonderful places, more than I could reasonably fit on the webpages: Venice • Verona • Vicenza.
We enjoyed catching up on old times with our friends, and letting them feed us wonderful Italian food, both homemade and at a nearby trattoria:
One of the reasons this is such a scenic area is its proximity to some really gorgeous mountains, the Dolomites, seen here from our friends' "back yard":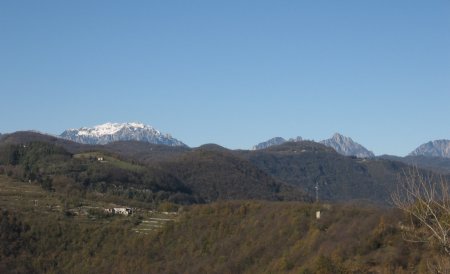 Despite the snow visible on these distant peaks, we were somewhat surprised to wake up on Sunday to find that the hills above Vicenza had been transformed, and made even more lovely, by this early season snowfall!
Fortunately our intrepid hosts didn't let a little snow interfere with the sight-seeing plans, but we definitely hit the hot chocolate more heavily than the gelato on our breaks that day!
The main scenery in this area, however, is urban rather than natural. Here are some "teaser" photos from each of the three wonderful cities we visited: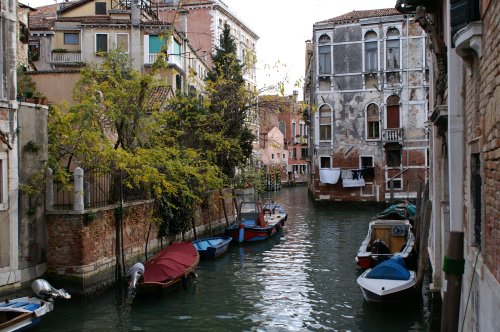 a random rio in Venice

along the Adige River in Verona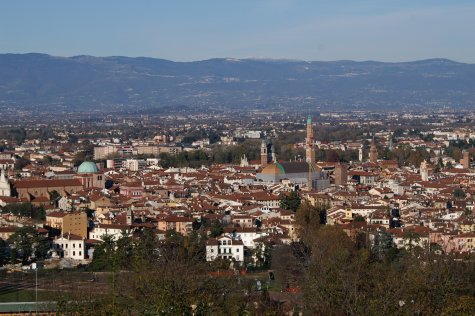 view of Vicenza from Monte Berico
---